3D Cooling/Additive Manufacturing
Laser CUSING® Technology of layer-by-layer construction of metal powder helps to produce near to 100% dense Components. A method of manufacturing Metal Prototypes (Direct Metal Parts ) for the Product Development & Batch parts production to save Time & Cost. This process can be widely used for various industries like Aerospace, Automotive, Medical, Precision part manufacturing, Consumer product manufacturing, Mold manufacturing (Plastic & Die casting), Jewellery etc..
Laser CUSING® allows the user to have Tooling inserts with Internal Features (Conformal/3D Cooling). This improves the aesthetics & dimensional accuracy of the Component.
Fusion of single-component metallic powder materials: This method allows the layer-by-layer construction of components from almost all metallic materials (e.g. stainless steel and hot work steel powders). Metallic powder is hereby fully fused layer for layer to produce a 100% component density.
We can produce direct metal parts made of following materials
Stainless Steel - 1.4404
Hot-Work Steel - 1.2709
Conformal Cooling
Few examples in Comparison of Conformal Cooling with Conventional Cooling.
WARPAGE CONTROL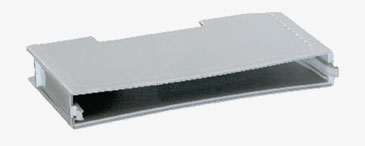 Warpage observed
More man-power deployed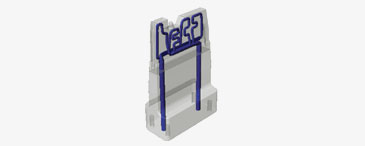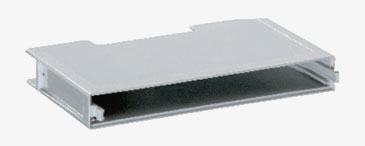 Warpage Minimized.
Man-power Elimination + Cycle-time Reduction
Objective: Warpage & Cycle Time Reduction
Result: Warpage reduced & Cycle Time reduced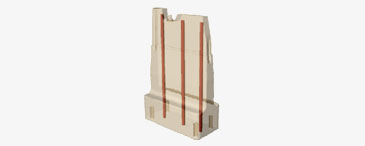 Conventional Cooling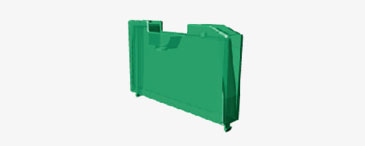 Component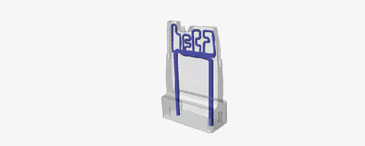 Conformal Cooling
Conventional Cooling: Cooling Time - 10 Secs, Warpage - 0.70 mm
Conformal Cooling: Cooling Time - 6 Secs, Warpage - 0.20 mm
Cooling fixtures eliminated
Objective: Warpage & Cycle Time Reduction
Result: Warpage reduced, cooling time reduced and overall rejections reduced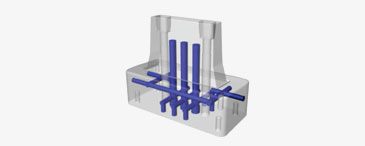 Conventional Cooling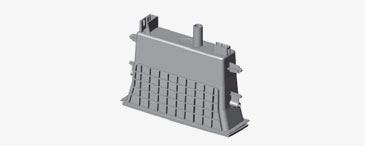 Component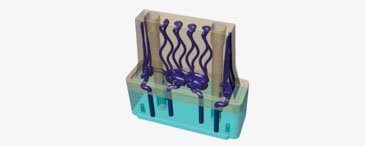 Conformal Cooling
Conventional Cooling: Cooling Time - 50 Secs, Warpage - 20 Secs, Rejections - 12%
Conformal Cooling: Cooling Time - 3.5 mm, Warpage - 0.2 mm, Rejections - 3%
Cooling fixtures eliminated
BRAKE SYSTEM CYLINDER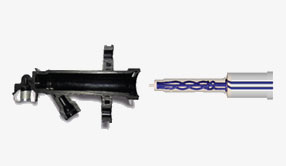 PA6 - 30% GF - 100 mm long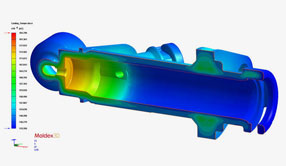 Without Conformal Cooling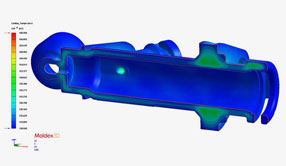 With Conformal Cooling
Conventional Cooling: Surface finish - Ra 1.5, Part Catching - Yes, Ovality - 0.3mm
Conformal Cooling: Surface finish - Ra 0.3, Part Catching - No, Ovality - 0.05mm
25% reduction in cooling time
Objective: To reduce machining allowance & porosity.
Result: Part quality improved & machining time reduced due to minimum draft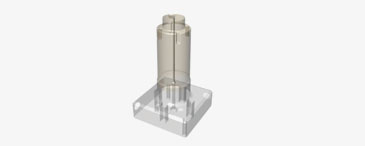 Conventional Cooling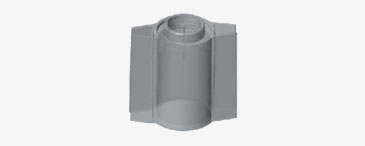 Component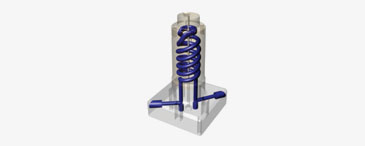 Conformal Cooling
Conventional Cooling: Machining Stock - 0.8 mm, Draft - 1.0°/Side, Before LASER CUSING Porosity found due to high machining stock(Draft 1.0°)
Conformal Cooling: Machining Stock - 0.3 mm, Draft - 0.5°/Side, After LASER CUSING Porosity reduced(Draft 0.5°)
Objective: To reduce machining allowance & porosity
Result: Part quality improved & machining time reduced due to minimum draft
Conventional Cooling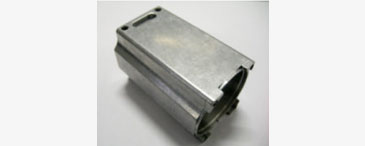 Component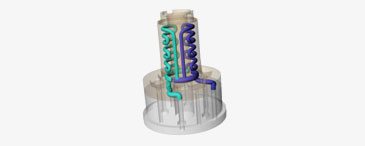 Conformal Cooling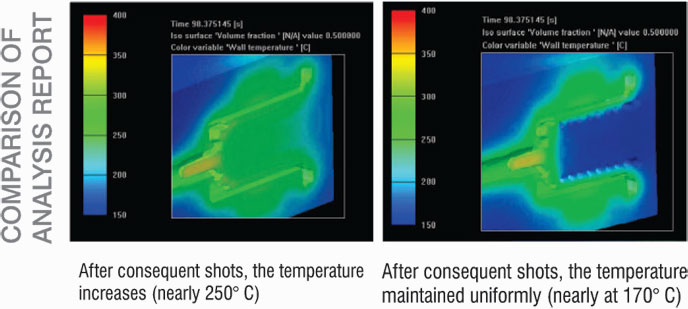 Conventional Cooling: Machining Stock - 1.1 mm, Draft - 1.5°, Before LASER CUSING Porosity found due to high machining stock (Draft 1.5°)
Conformal Cooling: Machining Stock - 0.3 mm, Draft - 0.5°, After LASER CUSING Porosity reduced(Draft 0.5°)